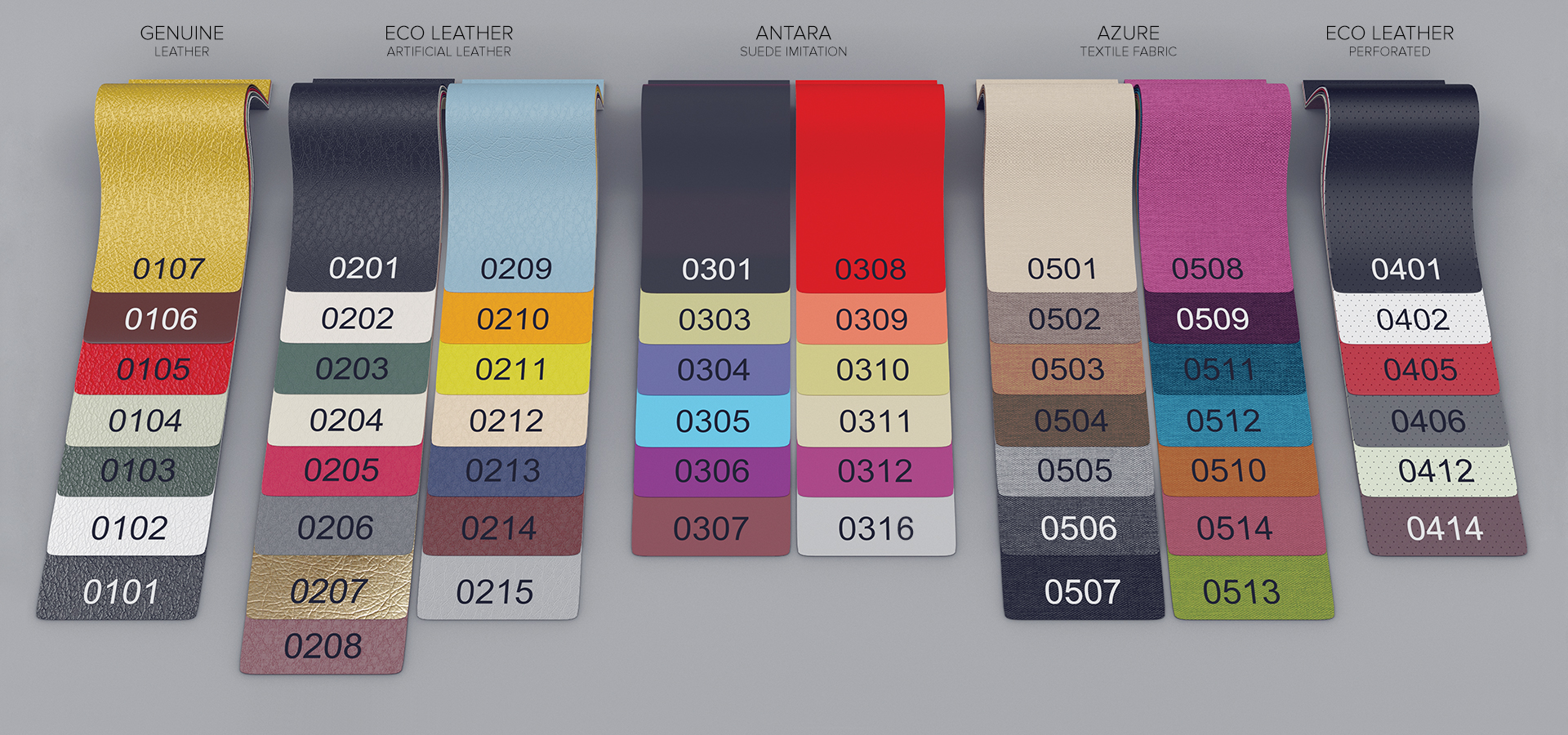 Only the best quality materials are used for the seats. Additionally, we have more than 480 possible colours and upholstery options!
LEATHER
Specialists of KULIK SYSTEM company, guided by the latest environmental requirements, chose the best options for upholstery materials that differ in style and quality. The leather is a universal natural material, always enjoying well-deserved popularity. The natural characteristics of this upholstery are the best evidence of KULIK SYSTEM's concern for your health and comfortable well-being.
AZURE
Azure is a new type of upholstery with a wide range of colours. The fabric has a fine and dense weave of threads and is strengthened by a base which includes cotton. Azure has a natural basis, which allows you to create a feeling of cosiness and comfort, both in the office and in the home interior.
ANTARA
Antara is a new generation of upholstery fabrics. One touch allows you to feel the harmony of comfort and style. The naturalness and easy care for this tissue are achieved through the use of high-tech fibres in its composition, which have antistatic and Teflon properties. The Antara has a very high attrition threshold, and any dirt can be easily removed from the surface of the fabric, which allows its use for many years.
ECO-LEATHER
Eco-leather is a product of high technologies of the future, which has a flexible structure, softness, and elasticity. Passing and ventilating the air, the eco-leather, however, does not let water vapour pass. Thanks to this feature, the eco-leather is pleasant and warm to the touch.
ECO-LEATHER PERFORATED
Upholstery material, imitating natural leather having "breathing" properties. Perforation enhances the quality of ventilation and thermoregulation of the material.